Cookies for CASA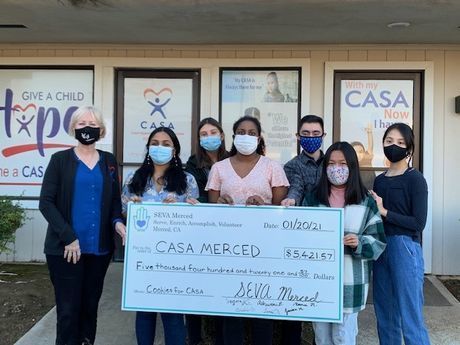 If you were fortunate, enough to hear about Cookies for CASA in December you probably enjoyed some wonderful home baked cookies, hot cocoa and coffee served to you by smiling members of SEVA – plus you were able to make a donation that benefited CASA!
SEVA is a group of high school students that started working together August 24, 2020. Before they were SEVA, they started The Mask Project.  The Mask Project was created in hopes of spreading awareness and promoting the safety of our city. The goal was to reduce COVID-19 case numbers and help students return to in-person learning. Another project they created was a video filmed for first-responders. During the pandemic and even outside of 2020, first responders are essential for keeping all of us safe. The group wanted to send their thanks, as the students of our community, to remind first responders that their efforts are valued. Numerous students from schools across Merced contributed their message of thanks in the video.
In ancient Sanskrit (an ancient Indian language), "SEVA" means "service". The group adapted this word into the acronym: SEVA which stands for Serve, Enrich, Volunteer, and Accomplish because that is what they hope to do in our community!
SEVA was founded by Siya Lakireddy, Ashwini Elwin, Jessica Ma, Anali Sebastian and Gwyneth Steele-Quevedo, from both Golden Valley and El Capitan High Schools.  
The group is working on making SEVA into an official club in the Merced Union High School district. Their next goal is to establish SEVA into a more formal group so that other students have an opportunity to serve our community. They hope to fundraise for themselves and receive enough support so they may continue serving the community and contributing valuable change as students!
SEVA hopes that people are aware that the students of this community are determined to make a difference! They love our community and hope that many others share our vision of a better and more connected Merced.
SEVA raised over $5000 to help Court Appointed Special Advocates! The funds will be used to help recruit and train new advocates to help the over 600 children in foster care in Merced County.  If you would like to know more about how you can donate to CASA or become a volunteer please call 209-722-2272 or check out their website www.mercedcasa.org
Pictured above from left to right Cathie Lancaster, Executive Director of CASA of Merced County, Siya Lakireddy (founder, Golden Valley High school), Anali Sebastian (founder, El Capitan High School), Ashwini Elwin (founder, El Capitan High School), Torin Olivarez-Kidwell (volunteer, Merced High School), Nana Nguyen (volunteer, El Capitan High School), Jessica Ma (founder, El Capitan High School)