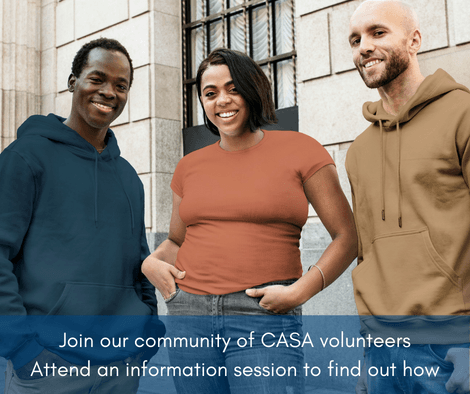 Sign Up for a CASA Information Session
The first step to becoming a CASA volunteer is to attend an information session to learn what an advocate's responsibilities are, and how the CASA organization will support you. Information sessions are free, and anyone interested in CASA that is over the age of 21 is invited to attend. Reoccurring information sessions take place the first Tuesday of each month at 12:00 PM. The meetings last approximately 30-45 minutes and take place on Zoom unless otherwise noted. Additional information sessions will be added as a Training Class nears. See available information session dates below.
*Note: All information sessions are now held online via ZOOM. Please fill out each section below and select the date/time of your choice. Once your information is received, our Recruitment Coordinator will send a link for you to join the upcoming meeting. If you are unable to attend through Zoom, please check the option to complete the information session by phone call. Thank you for your patience and understanding during this time. 
CASA Office
2824 Park Ave, Suite A
Merced, CA 95348